Home SPA Microdermabrasion - Hydro Pore Purifying Device
SPA Level Pore Managment
The AT Home SPA Hydro Pore Purifying Tool provides a solution for brightening dull complexions, smoothing away dead skin cells, and helps your skincare products be much more effective. This Personal Microdermabrasion Tool is designed to
deeply cleanse pores and extract impurities
up while exfoliating the skin for a bright, smooth and even skin tone.
Removes blackheads, whiteheads and comedones
6 scrub heads for different skin needs
3 levels strength for oily, normal and sensitive skin
Cordless and rechargeable device

Negative pressure vacuum suctioning will reach to the skin depth where cleansing oil or face scrubber can not reach. It will clean and smooth out dead skin cells at the root of each pore.

Individually designed for daily cleaning, deep cleaning and face scrub. Ranging small suctions to large, customize your treatment.

3 level strength mode combined with different scrub heads will fit for your different skin condition each time: oily, combination, normal and sensitive skin.

Cordless and usb charged device allowed you to continually use it in international travels. Deep skin cleaning helps on skin allergies and irritated skin.
Customer Feedback
"My skin type is an oily combination plus acne, so this tool works very well for me! I usually use it after removing my makeup. When I am using this on my skin, I can see how the water becomes dirty even though I washed myself before using it. It feels like a water pressure cleaning gun for the skin."

- Katrina. Long Island, New York.
"My skin is really sensitive skin. As I used the product, I liked how well it suctioned and cleaned the service however because the tool was so effective, I feel slight irritated on nose area. I like it but I think it needs to be used more carefully for extremely sensitive skin like mine."

- Lika Yoo, Spring Valley, Nevada.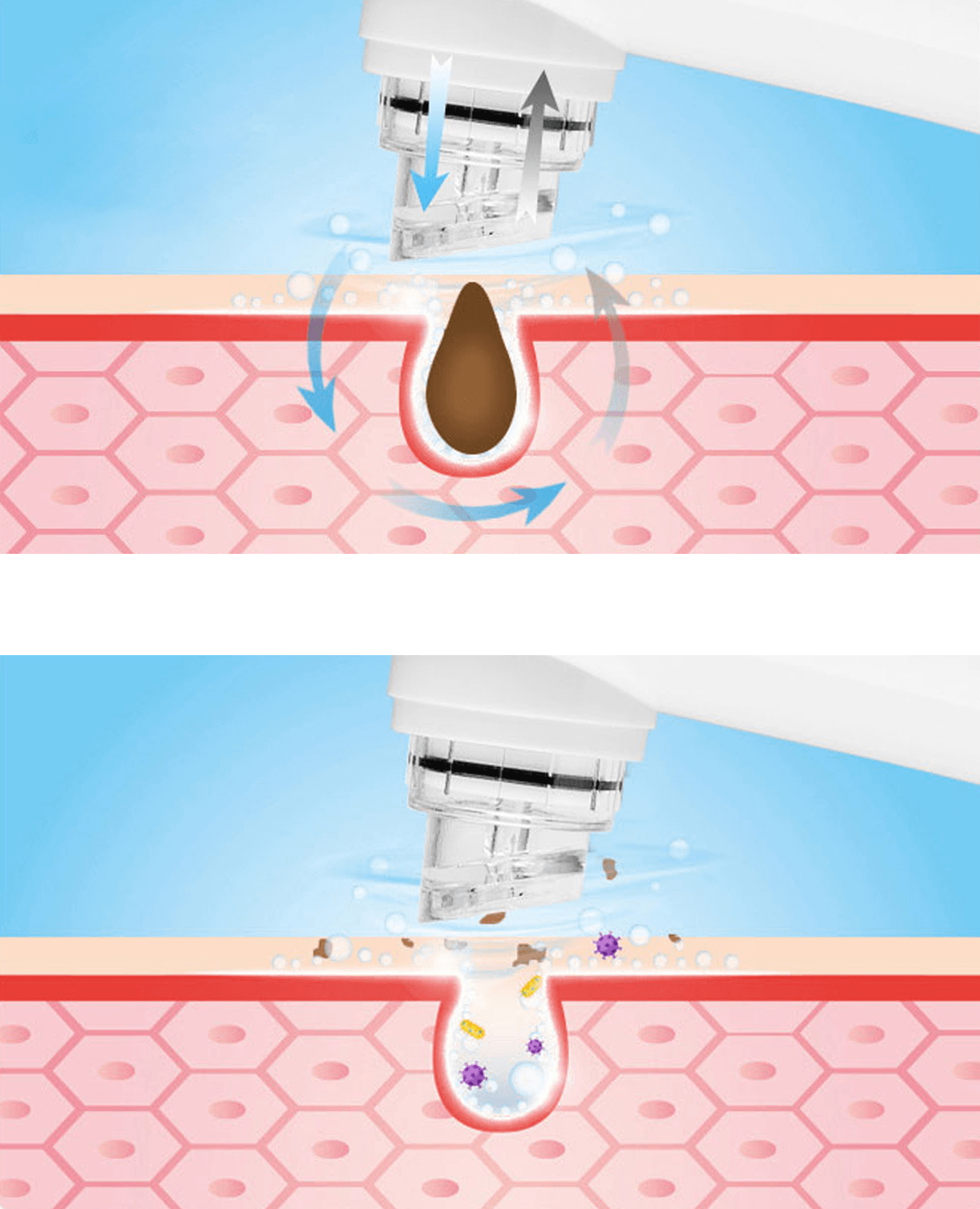 How to Use It
To prepare, make sure that the skin is either washed or compressed with a warm tool before starting the microdermabrasion, suctioning treatment. By doing this the pores will be open which helps to remove impurities and treat the skin thoroughly.
Remove all makeup from the face and neck. 

Wash face or either compress face with hot towel to open the pores.

Using both hands for the treatment; one hand to hold the tool and the other to stretch the skin. 

Choose the suction head and the level of strength. 

Fill the bottom half of the tool with either warm water or a facial toner. Make sure the rubber hose is in the water/toner.
Quickly move the device on the face for no more than 2 seconds while working your way from the face to the neck. You will see the bottom half of the tool fill with dirt/impurities.
For areas around the nose, stretch the skin slightly so the tool can clean and exfoliate those areas. 

Be careful around the eye area and do not go too close to the lash line or inner corners. This will cause irritation. 

You will see the bottom half of the tool fill with dirt/impurities.
Product Overview
This Personal Microdermabrasion Tool brings SPA level facial at home and is designed to deeply cleanse pores and extract impurities up while exfoliating the skin for a bright, smooth and even skin tone. The powerful spa level black head remover will extract blackheads and leftover product sitting on the skin's surface. Choose from 6 different scrub head attachments and 3 different level controls to customize your at home treatment. The tool can be used for both regular pore cleaning or microdermabrasion face scrubbing.
How to Use It
After you have removed all makeup, you want to start with a steamed face that has either just been cleaned, steamed, or hot compressed so the pores are open. Choose from 1 of the 6 suction attachments that are for normal skin or sensitive skin and attach to the tool. Turn on the device to the level according to your skin type. Quickly move the tool on the face and work from the top of the bottom, suctioning for no more than 2 seconds. Once complete, rinse the face with lukewarm water to close the pores and apply a moisturizer.
How It Works
This tool works by using negative pressure vacuum suctioning and head attachments to clean deeper than normal face washing and smooth away dead skin cells. Choose from either larger suction heads for blackheads, medium for general exfoliation and small for precise and sensitive areas. After a few uses you will see the skin's elasticity restored, pores minimized and the skin rejuvenated. It is the perfect option for at home treatments due to its size, portability, cordless and battery operated technology.
Specifications
Size: 200mm x 55mm x 45mm
Color: White
Weight: 520g
Power: 3.7V/2W
Materials: ABS and Metal